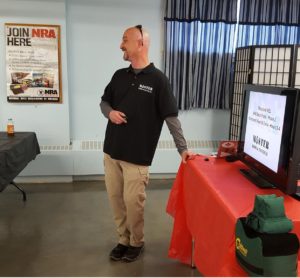 Master Arms & Tactical, LLC offers the NRA Basics of Pistol Shooting in both the Blended (formerly known as Phase 1 & Phase 2) and Instructor Led Training (ILT) formats to all students seeking to learn safe, accurate, handgun practices whether your goal is to obtain concealed carry credentials or just become a better shooter.
We provide you with the required training by live instructors (not a multi-hour video) certified by the National Rifle Association and licensed by the Maryland State Police.  This allows you to ask all the questions you need and includes your practical exercises and live-fire training.  You won't be sitting for hours listening to us talk!
NRA Basics of Pistol Shooting is taught as part of our Basic Handgun class which is offered on  Saturdays and by appointment for groups.  Register for Basic Handgun now.
Price: $95