Concealed Carry 2 is a continuation of defensive use of the handgun with an emphasis on skill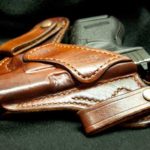 development for real-life scenarios for those interested in protecting themselves inside their homes, or who are seeking a Maryland Wear & Carry Permit.  Mindset, gun-handling, and marksmanship are covered in practical exercises and live-fire.
Other course topics include situational awareness, equipment selection, safety, handling, loading, unloading, malfunction clearance, drawing and firing techniques, single handed firing, firing from cover, multiple targets, movement, and tactics.
Basic Pistol & Maryland HQL is a prerequisite for this class.
Price:
Concealed Carry 2 – $150