Concealed Carry 2 provides continued study in defensive use of the handgun with an emphasis on skill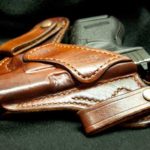 development for real-life scenarios for those interested in protecting themselves inside their homes, or who are seeking a Maryland Wear & Carry Permit.  Equipment selection, use of holsters, loading/unloading/malfunction clearance, drawing and firing techniques, defense from cover and concealment, movement, and tactics are covered in practical exercises and live-fire.
Basic Pistol & Maryland HQL is a prerequisite for this class.
Price:
Concealed Carry 2 – $150