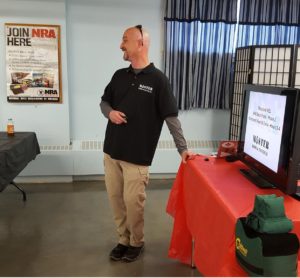 The Maryland Handgun Qualification License (HQL) allows Maryland citizens to purchase, rent, or receive a handgun.  It is not a permit to carry a concealed handgun. For CCW, please see our Maryland Wear & Carry classes.
We provide you with hours of training by live instructors (not a multi-hour video) licensed by the Maryland State Police.  This allows you to ask all the questions you need and includes your practical exercises and live-fire training.  You won't be sitting for  hours listening to us talk!
Maryland HQL is taught as part of our Basic Handgun class which is offered on Wednesday evenings and Saturdays.   Register for Basic Handgun now.
Price: $75*
Fingerprints are also required for the HQL application.  Apex Investigative Services, Inc. will come to the class and do live-scan fingerprinting for you onsite.  Their fee for coming on site is typically $68.
A signed waiver is required for this class.  Download, print, and sign our waiver (waiver file link) before you come to class.
*Discounts are always available.  Send us an email at info@getguntraining.com or give us a call at 800-221-5740 to ask!