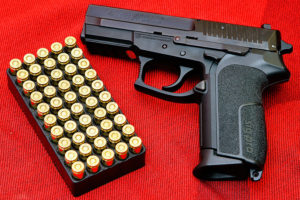 Master Arms & Tactical, LLC is proud to offer private instruction in the following areas:
Handgun (Semi-auto and revolver) – learn to safely shoot a handgun
Advanced Handgun Accuracy – Know how to shoot, but want to get better?  Give us a call!
Professional Qualification – Qualification for Maryland Handgun Permits, Security Guard Certification, Private Investigator License, etc.  We are licensed to train security professionals and police officers.  We also offer LEOSA discounts.
Rifle – AR pattern, hunting rifle, and competition caliber.  We offer patrol rifle and tactical training for police officers, military, and security professionals.
Shotgun – Skeet, trap, sporting clays, hunting, and general skill shooting for all gauges.  Tactical and personal protection training.
Private Wear & Carry (concealed carry) instruction is available according to your schedule.
Personal Protection – Learn how to clear your home, defend your family, and safely defend your loved ones and property inside your home, vehicle, or property.
To arrange private instruction in any area of firearms training, please contact us by calling 800-221-5740 or email us at info@getguntraining.com.