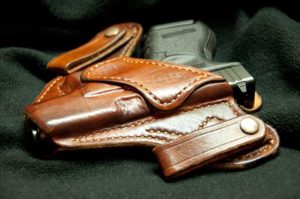 In the state of Maryland, concealed carry is available to approved applicants as Maryland Wear & Carry and is issued simply as Permit to Carry a Handgun.  Students seeking to apply for a Maryland Wear & Carry Permit should take the following classes:
Basic Handgun – Up to 4 hours. Provides a working knowledge of Maryland firearms laws, home firearm safety, handgun mechanisms and operation, and uses of a firearm
Intermediate Handgun – Up to 8 hours of classroom and range time. Provides an introduction to defensive use of the handgun with an emphasis on skill development for real-life scenarios.  Mindset, gun-handling, and marksmanship are covered in practical exercises and live-fire.  Other course topics include situational awareness, equipment selection, safety, handling, loading, unloading, malfunction clearance, drawing and firing techniques, single handed firing, firing from cover, multiple targets, movement, and tactics.
Advanced Handgun – At least 4 hours of classroom and range time.  Provides an advanced look at defensive handgun use for real-life scenarios and insight into the legal ramifications of engaging an attacker with your firearm.  Preparation for qualification according to the Maryland State Police standard.
This class is designed to be flexible for your budget and schedule. Students can move through the training at their own pace, and take each class as time and finances permit.
A training log will be provided to track the 16 hours of training required by the Maryland State Police. We will assist you with your Wear and Carry Permit application to make sure it is completed correctly and we recommend submitting your application to the Maryland State Police with more than the minimum 16 hours of training.  Additional training may be necessary to complete the Maryland State Police required qualification.
A signed Waiver and Assumption of Risk is required for this class. Waiver can be found at http://getguntraining.com/wp-content/uploads/2017/08/Student-Waiver.pdf
Prices:
Basic Handgun – $75
Intermediate Handgun – $125
Advanced Handgun – $150